FKM NBR EPDM PTFE Water Pump Type 301 Apv Pump Water Mechanical Seal selected according to operation condition

Design Structure:

Operating limits:

1

. Dependent on the direction of rotation

1. Pressure:6bar

2. Single face

2. Temperature-30-200°C

3. Unbalanced

3. Speed: ≤15m/s

4. Rubber bellows

4. Shaft size:10~25.4mm




5.Sealing face:Silicon carbide,Carbon,TC




6.Secondary Sealing:FKM,NBR,PTFE,EPDM




7.Mental component:316L, 304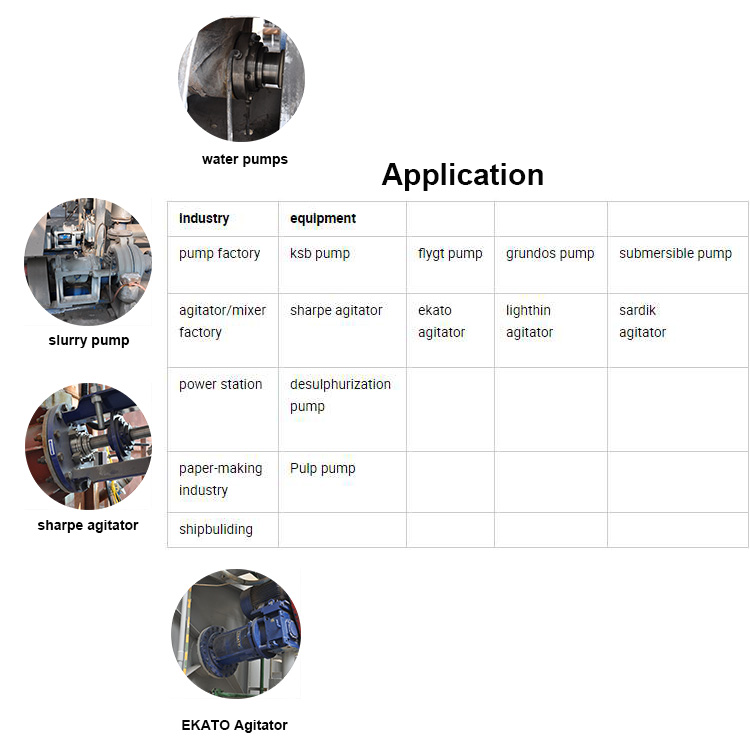 Supplier Burgmann MG1 rubber bellow Mechanical Seal for water pump
1. Sealcon R21 is for Burgmann MG1
2. Our seals can replace the original seals. we strictly follow DIN24960,ISO3069, EN12756,API628 standards.
3.If it is not the one you need ,you can pass us your pump model or your drawing ,material,shaft size for quotation.
we can make whatever mechanical seal you need .
4.Customized products and OEM is welcomed
5. We offer Factory Price,High Quality ,Fast Delivery and Best Sevice.
Product Description
1) Heat shock stablity
2) chemical corrosion-resistant
3) High temper-endure(up to 1650°)
4) Wearing/corrosion/oxidation resistant
5) Highly performance of mechanical strength
6) Cleaning or etching the hardest sub-surfaces
7) Used for grinding, lapping, and wire saw cutting as well as abrasive blasting

Operating Conditions
Pressure:≤

1.2Mpa

Design feature

Rotation Speed:≤

13m/sec

Rubber belloews structure with big spring

Temperature:≤

-40~150

°C

Single structure, better integration and compact construction, reliable seal and long operation cycles

Uesd in centrifugal pumps, mixer and other rotating equipment

The mediums are the most general and light chemical duties such as sewage and dirty water

Suitable for many specification and designs which conform to ISO3069 and DIN24960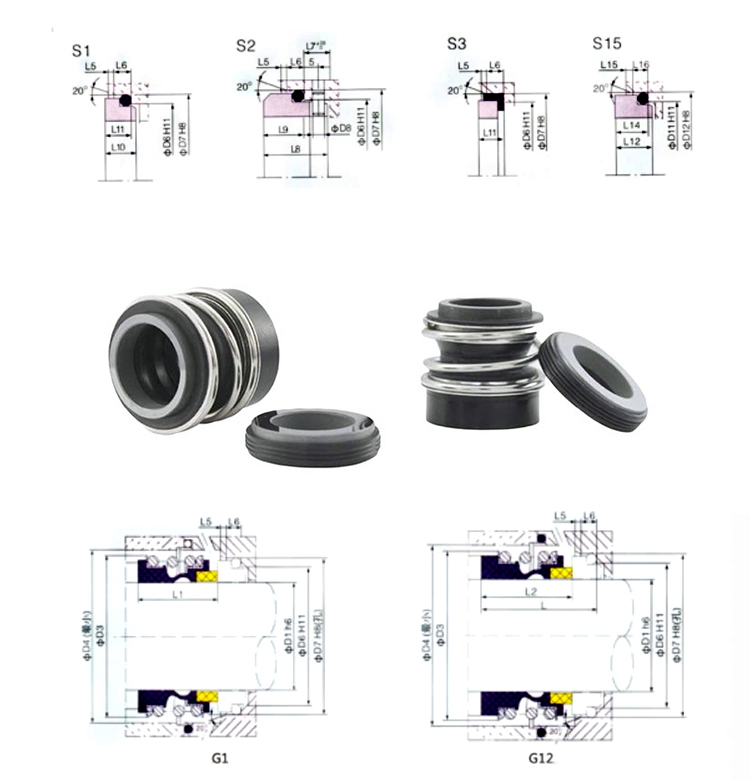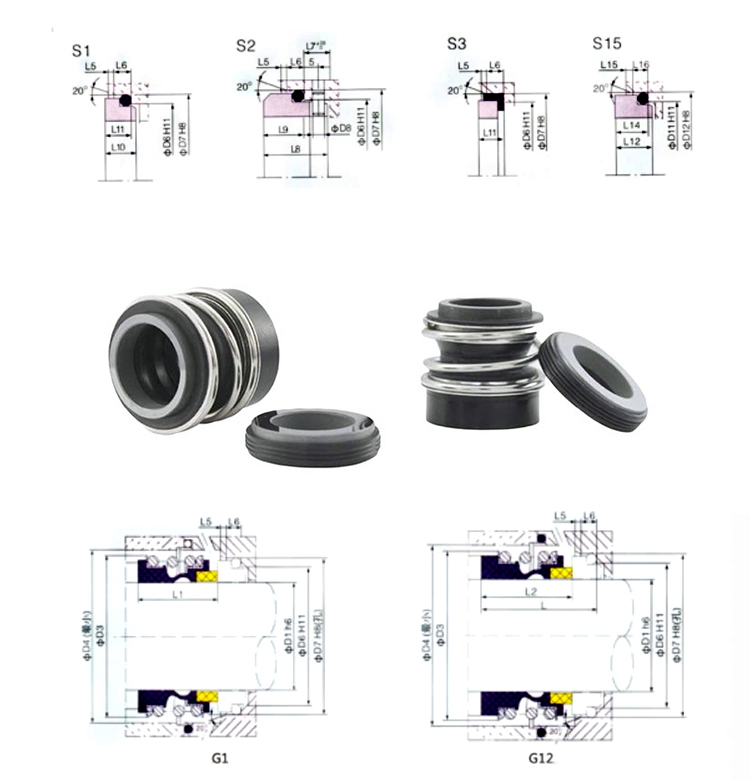 Material And Component Codes
Description

Material

Material Feature & Suitable Scope

Rotary /Stationary Face







Carbon

Resistant against: erosive heat.

suitable for water and oil medium.

Ceramic

Resistant against:shore hardness,abrasion.

Suitable for dusted water and oil.

Silicon Carbide

Resistant against:heat,abrasion,erosive.

Suitable for industrial pumps, submersible

pump sewage pump etc

Tungsten carbide

Resistant against:heat,abrasion,erosive.
Suitable for industrial pumps, submersible
pump sewage pump etc

Bellow Cup gasket Oring

NBR

Resistant against:pressure,abrasion,high elasticity and mechanical strength.

Suitable for water and Oil Under -20°C-120°C

EPDM

Resistant against:heat freeze,chemical reagent depending.

Suitable for water and Oil Under -40°C-150°C

MVQ

Resistant against:heat, oil, reagent, medicine,

acetone.Suitable for high temperature.

Hydraulic equipment and vacum equipment

Suitable for erosive medium under -20°C-180°C

ECO

Resistant against:ozone aging merely ocetum, ammomia ethanol. Suitable for medium -40°C

-150

°C

SUS304

SUS316

Resistant against: freon, rock oil.

Suitable for medium -30°C-130°C

Retainer driver ringspring

Spring seat

SUS304

SUS316

Resistant against: abrasion, antirust of feature